ASTROLOGY and HISTORY SERIES

ANTARCTIC TRAGEDY

ROBERT F. SCOTT'S * STARS 29 Mar 1912

Below is the sky map at the exact South Pole on 29 MAR at 12:00 pm UTC Scott's last day (from his last journal entry).

Captain Robert Falcon Scott b. 6 Jun 1868 Devonport, England at 8:39 am UT - author's rectification.

You will note

*Achernar* 15 deg. Pisces is directly overhead- "risk of rapid endings". Mars conjuncts Pluto in Gem.- demise by starvation, co-ruler Mercury rules intestines. Mercury in Aries- signifying explorers, military men, a doctor, is squaring Uranus in Aquarius (air) indicating a violent storm raging. Jupiter 15 deg. Sag. is squared by Venus 12 deg. Pisces - extreme fatigue, weakness. Venus in Pisces becomes much beloved. Despite his injuries Scott wrote a packet of last letters describing the expedition's torments and his companion's heroic efforts before succumbing.
Below is the image of Robert Scott's Stars rising on the eastern horizon the same day at noon.
Images courtesy of Your Sky
http://www.fourmilab.ch/yoursky/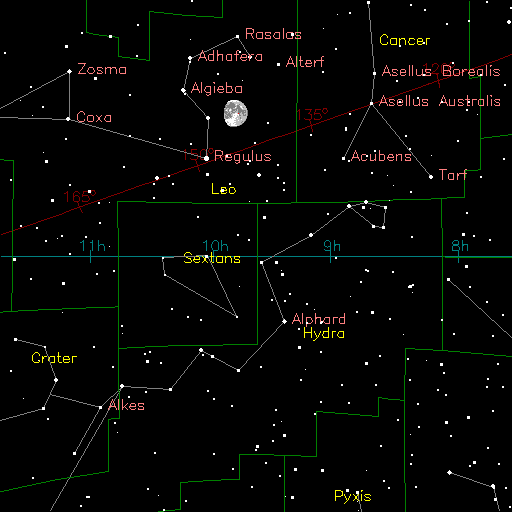 On Scott's last day, 29 Mar 1912

. Image is a 60 deg. view, 0 deg. declination, Right Ascension 9h 37m 56s- slightly ENE. The eastern-most rising stars at noon are *Kraz at 15 deg. Libra, *Denebola and *Alkes at 23 deg. Virgo, located in the Crater "bowl" constellation. These star's astrological significations match Scott's experiences during the race to the South Pole. *Kraz represents the ancient's "Great Storm Bird". Scott's party perished in a Great Storm which kept them "pinned down for ten days". The Cup can be seen as Scott's quest for honors by attempting to reach "the holy grail" of the South Pole first. Denebola's traditional meanings are, "honors, distress, natural disasters, catastrophes" (per Anthony Lewis, others). *Alkes 24 deg. Virgo - is present at the lowest edge of the Crater cluster. These astral influences were part and parcel of Scott's fate as foretold by his natal horoscope's Mercury square Jupiter; "getting lost, inability to complete one's journey" and Gemini Sun quindecile Saturn in Sagittarius, "the ability to decide - to exercise leadership". Natal sun conjunct *Rigel (exact orb) fitted his ship's captain role. *Rigel is called the "seafarer's star", it's significations include difficulty in navigation as well as fame. Thus on the last day *Rigel reprised its original appearance in the natal chart.

In Extremis

The Moon in Leo

had risen earlier that morning and is close to the patron star of his birth *Regulus* thus it's natal signification's were eerily fulfilled in the manner and circumstances of his death; "honors, royal patronage, protection, a great fall". Moon squared Saturn. He was honored as a hero by his King and his nation.

Postscript

- Influence of Alkes

"When rising the star indicates dedicated environmentalists whose love for rivers and streams lead them to be very protective regarding water resources. At a less intense level the native may become a landscape architect, a builder of canals, or in some other manner do business in merchandise connected with water".

(Noonan) Quote from The Fixed Stars. This assessment is aptly prophetic. Since Scott's tragic death studying Antarctica has become the beacon of hope for environmentalists worldwide and mankind's new holy grail.

Copyright Robert Needham and Astro-Research Associates Inc.

All rights reserved except for brief citations & a link to this page

____________________________________________________
Click on disc to find YOUR FAVORITE CD
______________________________________________
PLEASE SUPPORT OUR SPONSORS

American Heritage of Invention and Technology
American Heritage of Invention & Technology puts the amazing history of American inventiveness in your hands. The magazine's clear writing and beautiful graphics help to explain how the extraordinary ideas, machines, and inventions of America's great inventors have changed the entire world over the past two centuries. Read all about Edison, the Wright Brothers, Robert Fulton, and many other notable inventors.

American History
Expertly researched articles, galleries of period photos and full-color reproductions of paintings, posters, banners, flags, and artifacts can all be found in the pages of American History. The magazine also offers book news, reviews, history updates, and information about museum exhibitions.

National Geographic Traveler
Published bimonthly by the well-respected National Geographic Society, National Geographic Traveler is a magazine with an exclusive focus on travel. Readers can find help for all aspects of travel plans, from detailed maps to lodging recommendations.

The Mountain Astrologer Magazine
A leader in its field, The Mountain Astrologer is essential for anyone serious about learning or practicing astrology. Each bimonthly issue has lively, well-written articles, a global forecast calendar, book reviews, and humor pieces. Tired of astrology fast food? Feast your mind on The Mountain Astrologer!

The Wall Street Journal
The Journal is the leading business publication in the country, with the most relevant information available on the business of making a living. It provides valuable information on the latest news and trends in business; on advancing your career and increasing income; on using new technologies; on managing change and on working smarter and investing more profitably. What all this adds up to is the Journal delivers news you can use.

World Energy
World Energy is a publication written by the business leaders of the energy industry worldwide. CEOs, chairmen, presidents, and high-ranking officials published in an unfiltered and unedited format. Subjects are chosen by the authors and focus on strategy, theory, business, management, industry issues, and areas of importance to them. Each issue contains 24 to 30 articles prepared to provide a window into issues that the dynamic leaders of this industry know are important and in need of greater thought. World Energy is published twice a year and subscriptions include access to the magazine's Web site, www.WorldEnergySource.com.

LINKS TO ARTICLES on ROBERT F. SCOTT

and Medical Astrology

http://futureadvocate2.tripod.com/WhatHappened.index.html For the incurably curious

http://pages.about.com/futradvocate/index.html You're invited to participate in a Health Study

http://futureadvocate2.tripod.com/ScottHealthPg1.htm Page about Captain Scott's health

http://www.envirolink.org/oneworld/focus/southpole/ History Articles on Scott & Antarctica
Books on Polar Exploration at Discount
Sign My Guestbook
View My Guestbook