ASTROLOGY and The TITANIC
A Falling Star and RMS Titanic
This is an astrology based history of the White Star Line, owners of the famous ill-fated liner RMS Titanic. The dates used as the basis for the astrology charts used in this study are based on contemporary news accounts and official court documents. The RMS Titanic was built by Harlan and Wolfe at Belfast, Ireland. She was launched on May 31, 1911 at 12:15 p.m. LMT according to the builder's printed brochure.

Also taken into account are bracketing solar and lunar eclipses before and after each incident date.

Lunar Eclipses of Aug. 3rd & Sept. 2nd 1868

Lunar Eclipse 17 Jan. 1870 @ 27 deg. Cancer

Titanic Solar Eclipse 17 Apr. 1912

Note: The "Titanic" eclipse is indelibly linked to Explorer Robert F. Scott's tragic demise.

________________________________________________________

Bankruptcy filed 18 Jan. 1868: Saturn in 7th House

The 7th is the house of legal advisors. The modern era of the Liverpool based White Star Line began with its end. As a packet line company "it filed for bankruptcy on 18 Jan. 1868". This most important date corresponds with the end of a romantic era of wooden sailing ships and iron men. On that most inauspicious date at 12:01 p.m. LMT Saturn, the ruler of the chart's 9th house of law courts and legal decisions, was opposite the ascendant signifying the old partnership's severe limitations.

On this date three fixed Stars hold double portents for the legal actions then in motion on land and for the dire events that would transpire in the waters of the North Atlantic forty-four years later. The Pleides on the bankruptcy chart's ascendant, in the anaretic 29th degree of Taurus, denote a company "at the end of its rope" and "a fate to weep about".

Chiron at 23 degrees in watery Pisces was conjunct the malefic star *Markab*- "star of sorrow and tragedy to loved ones". Markhab is also noted for being present in situations where hastiness is a factor.

Bankruptcy Moon in Scorpio was in its fallen sign and near its most fallen nineteenth degree while conjunct *Serpentis*, a fixed star all too frequently allied with malefic events and misfortune. *Charubel*; another infamous star associated with charismatic evil was present and conjunct this "accursed degree". It is worth noting convicted murder cult leader Charles Manson's Scorpio sun is conjunct *Charubel* (Dell Oct. '97). It could be argued the White Star line's ships were likewise possessed of a similar mysterious charisma.

During Titanic's brief history Moon and Saturn repeatedly occupy the Via Combusta or the ancient's "burning way" of 19 deg. Scorpio thus presaging the ship's horrific fate. As she sat in the docks at Southhampton the coal in her bunkers began to smoulder from spontaneous combustion- "burning" manifested.

The highly charged Scorpio moon which rules the end-of-the matter 4th house cusp is trine Chiron/ *Markab*. This aspect details how many of the company's passengers or "family" would meet their end - in a watery grave.

The lunar square applying to Venus in Aquarius points to the public's fascination with the nostalgic past, "rule Britannia" and the need for new company assets to be built and employed in order to lure a newly emerging trans-Atlantic traffic.

The eventual fate of the company; its vessels and its hapless passengers is denoted by the 6th house lunar opposition to Pluto in the 12th- death by drowning. Neptune, the ruler of the 12th house of self-undoing, is in headstrong and fiery Aries, squared by Uranus in Cancer retrograde in 3rd of vehicles/ transport, signifying ocean pioneers engaged in rash actions, and further, the aspect presents a highly symbolic and eerie picture of culmination- "fire extinguished by water."

White Star's assets were eventually to be taken over seventeen months later, on Sept. 6, 1869 by the J. P. Morgan Group, a U.S. conglomerate, as shown by Saturn in Sagittarius, ruling the chart's ninth house of foreigners and legal rulings.

Jupiter, ruler of the eighth house of shared assets and death, was conjunct the South Node in the eleventh house of unexpected events and insurance, denoting a total loss- ex. the RMS Titanic sunk in 1912 and the former liner now-hospital ship Britannic was sunk by a mine in the Med. in 1916.

The saga's final end would not arrive until 1934, when White Star merged with Cunard, some sixty-six years in the future, during the Great Depression.

Repeated Planetary Degrees in Cycles:

Mars @ 23 degrees Capricorn during Titanic's 1909 launch.

Mercury @ 20 degrees Pisces.

Saturn @ 12 degrees Aries conjunct Bankruptcy Neptune in 12th.

Jupiter @ 5 degrees Virgo (retrograde) March 1909 conjunct Bankruptcy N. Node.

Lunar Eclipse of Sept 14, 1867

Saturn /* Serpentis @ 19 deg. Scorpio conjunct Bankruptcy moon. An evil influence.

__________________________________________________________________

6 Sept. 1869 New Moon & Re-Registry

The beginning of the modern liner fleet came with the newly reformed White Star Line's registry on 6 Sept. 1869; a New Moon. For this history and astrology sketch's purposes the Sept. 1869 date will be termed the Registry horoscope.

Sun in Virgo was square Saturn in Sagittarius; company executives and builders having faith in big, pet ideas proposed by authority, something to prove. Scorpio rising ruled by Pluto in TAU. in 6th opposing 1st house. Registry Neptune 19 deg. Aries squares Uranus in 9th house of legalities and long voyages.

With the advent of reliable steam-powered vessels White Star's small capacity sailing packets were no longer competitive. The survival and success of the newly reformed company depended on the firm's owners doing something radically different. What was needed was a new, more efficient, larger type of steamship made possible by technical advances in metallurgy, design and ship building technique.

All three of the new Titanic class liners laid down from 1908 to 1911 were involved in serious mishaps at sea.

Keel Laying:

Titanic's keel was laid down at Belfast on 31 March 1909: the closest prior Solar eclipse was on Dec. 23, 1908 @ 1 degree Capricorn.

In the Keel Laying Chart,

Set for 12:00 noon Belfast, Ireland, we see disruptive Uranus, lord of the 8th house, conjunct Mars in Capricorn, signifying the great ship stopped by an iceberg; a "solid, cold object". Venus / MC in Aries symbolizes the new company asset at the top of the horoscope in a cardinal fire sign. Venus' dispositor is Mars in the 6th opposing the Leo 00 deg. ascendant.

The Sun in Aries, lord of the ascendant, squares Neptune in the 12th pointing to a hidden fatal flaw in the ship's structure and design. Neptune in Cancer; posited in a cadent house represents the watery energy ruling the 9th house of long journeys. Neptune is squared by both Sun and Saturn- both signs are intercepted.

The proud Leo Moon- ruler of the Cancer interception, trines So. Node and Sun in Aries. Moon in the first house i.e. the ship parallels the malefic star * Zosma meaning to become a victim. In mundane astrology the moon symbolizes the fate of the people, the accident's victims. Finally, the moon disposits Neptune in Cancer.

Bad Luck or No Luck ?

Take your pick. Jupiter in Virgo, "a large object- crafted of the earth", is stationary Rx in the 3rd house of short journeys and makes virtually no aspect to any planet or point in the horoscope.

Jupiter in the horoscope is void and thus has no beneficial power.

Jupiter Rx is lord of the ship's 6th house of health as an "appliance".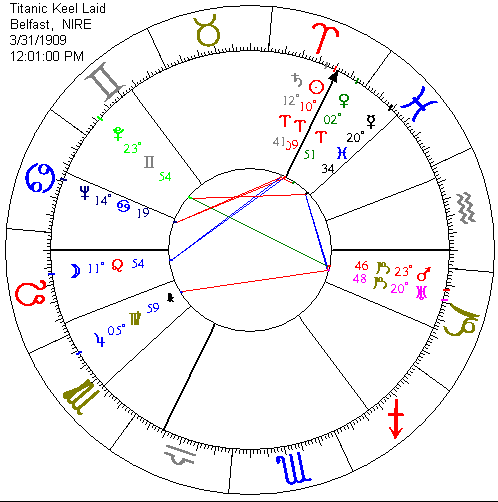 ____________________________________________________
Below is the chart of Titanic's Launch (solar fire 4)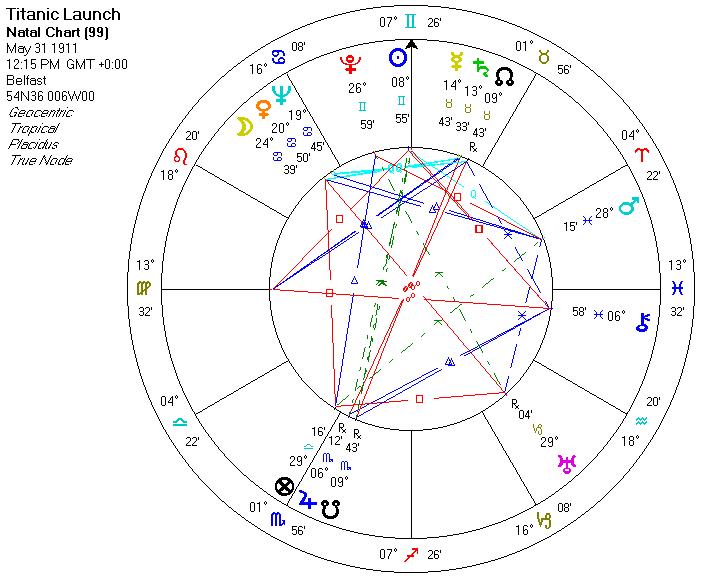 Below is the chart of The Titanic Sinking - Actual position was Long. 41N46 Lat. 050W14

Titanic sank April 15, 1912 at 2:20 AM according to written historical accounts, its survivors.

Wreck's location per Cdmr. Robert Ballard, USN records.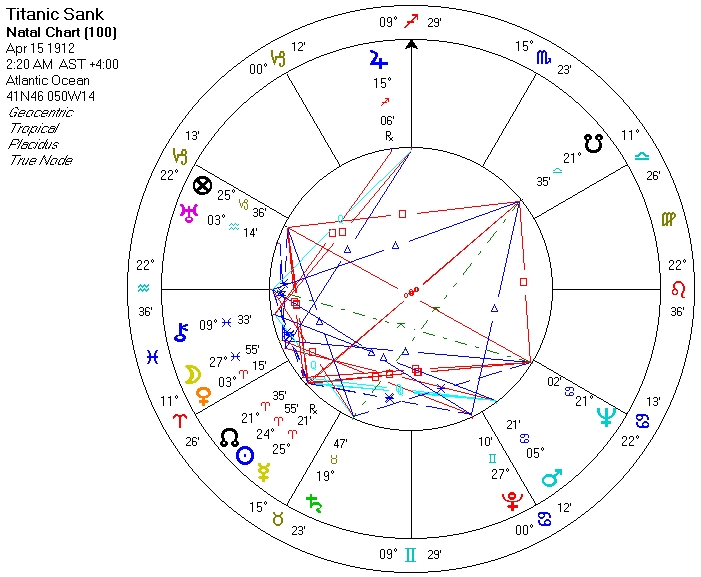 LINKS TO ASTRO-RESEARCH TOOLS
Email: r.j.needham@att.net
____________________________________________________
Get Astrolog 5.40 Free Software
Astrologer Noel Tyl & prediction
Mapquest.com for directions, maps
Copyright 2000 Robert Needham and Astro-Research Associates Inc.
All rights reserved except for brief citations or links to this page.
____________________________________________________
Email: r.j.needham@att.net
Sign My Guestbook
View My Guestbook